MTNA Stecher and Horowitz Competition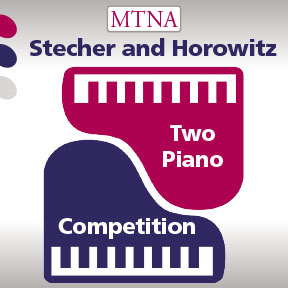 (click above for complete details)
Competition Rules
Important Dates
September 2, 2022

Online Registration available

3:00 p.m. Eastern Time, January 5, 2023

Completed registration and uploaded videos due

January 23, 2023

Notification of finalist acceptance or non-acceptance

March 28, 2023

Competition Finals, Awards Ceremony, and Winners Concert at the 2023 MTNA National Conference at in Reno, Nevada
Eligibility
The MTNA–Stecher and Horowitz Two Piano Competition is open to pianists between the ages of 18–29 during the time of the competition (September 2, 2022–March 28, 2023).
Registration Procedures
Click here to access the registration.
Registrations consist of the following:

Completed Online Registration Form.
Registration fee of $150, non-refundable, payable through the online registration system.
Scanned copy of the performers' birth certificates, passports or other official documents verifying date and place of birth.
High-quality performance video files, totaling 30–40 minutes, suitable for evaluation. (Refer to Video Files for Competition).

Completed registration is due by 3:00 p.m. Eastern Time, January 5, 2023. No late registrations accepted. Registration materials become the property of MTNA. Entrants should retain copies of submitted materials. MTNA is not responsible for any lost documents. Upon receipt of complete registration, acknowledgement will be sent to each entrant.
Notification of selection or non-selection as finalists or non-finalists will be sent to all entrants on or before January 23, 2023. Five duos will be selected to compete at the MTNA National Conference on March 28, 2023.
Please direct all questions about the registration to MTNA.
Repertoire Requirements
Only original compositions written specifically for two pianos are allowed. Transcriptions, works originally composed for piano solo and orchestra, and works originally composed for two pianos and orchestra are not permitted. The only exceptions are works that were transcribed for two pianos by the original composer (i.e. Ravel's La Valse, which is transcribed for two pianos by Ravel).
The program must contain repertoire from at least two different periods of music: baroque, classical, romantic, impressionistic or contemporary. Movements or sections are acceptable. The movement or section must be complete.
The online competition and live competition program may not exceed 40 minutes. Repertoire must remain the same for both rounds.
Repertoire must be listed accurately on the Registration Form. Include title, number, key, opus, movements and duration of each piece.
Memorization is not required.